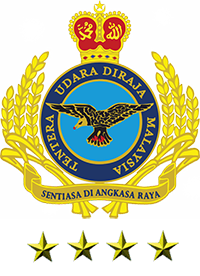 GEN TAN SRI ACKBAL BIN HJ ABDUL SAMAD RMAF
PSM PJN SSAP SIMP DPPN PSAT DPKK DSAP DIMP PAT JSM SAP SMP KAT AMN AAP dssc psc tp
CHIEF OF THE ROYAL MALAYSIAN AIR FORCE
Gen Tan Sri Ackbal bin Haji Abdul Samad RMAF, from Johor, is the 19th Chief of the Royal Malaysian Air Force.
Pursuing his childhood dream to become a fighter pilot led Gen Tan Sri Ackbal to enroll in Boys Wing of the Royal Military College when he was 16 years old. His journey continued when he was commissioned as a Royal Malaysian Air Force (RMAF) officer in 1982 and later earned his wing as a RMAF pilot in 1983.
There is no holding back for Gen Tan Sri Ackbal when comes to flying as he won all the challenge trophies during his basic flying course and fighter-lead-in course. The excellent award continued on when he attained his instructor pilot certification.
After skyrocketing with MB-339A during the fighter-lead-in course, he was assigned to his first operational squadron to fly A-4 Skyhawk. His outstanding flying skill primed Gen Tan Sri Ackbal to fly the newly acquired then Northrop F-5E. The pinnacle to all his hard work and achievements is when Gen Tan Sri Ackbal was selected by RMAF Special Selection Panel to attend Test Pilot School in United Kingdom. Here, Gen Tan Sri Ackbal flew many different types of aircraft and 19 types of simulators which included the Royal Air Force's Jaguar fighter jet, the Czech Republic's Aero-Vodocody L-39 Albatross, the Hawk T-MK 1, the Lear Jet-Variable stability test platform, the BAE 146, the Saab 2000, the King Air, Air Gliders and Aerobatic Extra 300 aircraft. His test pilot qualification allowed him to partake in RMAF flight trials of the Hawk, Aermacchi, F5-E, Beechcraft B200T and MiG-29 aircraft.
As a test pilot with vast operational experience, Gen Tan Sri Ackbal was selected for the RMAF MiG-29 Project Team in 1994 and subsequently upon returning from Russia, he was tasked to command No 19 Sqn, the home of the MiG-29N aircraft. Gen Ackbal aka "Krueger", who was one of the pioneers of the MiG-29 aircraft aerobatic team - "Smokey Bandits", made the debut in LIMA (Langkawi International Maritime and Aerospace Exhibition) in 1995 and 1997 where he was the solo display pilot.
After approximately 15 years of serving as operations pilot, Gen Tan Sri Ackbal was then designated to various policy and senior operational management appointments, namely Director of Planning and Development at the Air Force Headquarters, Commander of the Kuantan Air Base, Commander of No. 2 Air Division, Commander of Air Logistics, Commander of No. 1 Air Division, Commander of Air Operations, Joint Force Commander, Air Operations Commander and Deputy Chief of Air Force before taking over as the Chief of Air Force on 2nd Jan 2020.
Gen Tan Sri Ackbal's operational experience is vast and diverse. He has various types of formation missions in the South China Sea, Close Air Support Operations for Counter Insurgency Campaign Malaysia – Thai border in the 80s, Evacuation Operations of Malaysian in Egypt in 2014 and Malacca Straits Monitoring Mission. During the MH370 incident, Gen Tan Sri Ackbal was appointed to represent Malaysia as a member of High Level Technical Team to China to discuss with the Chinese officials and the next of kin. In 2012, Gen Tan Sri Ackbal was the Air Operation Commander and led the air campaign during Lahad Datu invasion by Sulu terrorist.
Gen Tan Sri Ackbal, an advocate for knowledge and lifelong learning, believes in pursuing competency and leading edge managerial skills to complement appointed tasks and appointments. He has attended courses from a diverse spectrum of disciplines at local and international, and amongst them are Electronic Warfare Course and the Instructor Techniques Course at the Naval Training Center in San Diego, California (1988), Royal New Zealand Staff College, Whenuapai (Auckland), New Zealand (1996), Simulator System Operation and Management Course in Montreal, Canada (1997), and Defence and Strategic Studies at Weston Creek, Canberra, Australia (2001).
Gen Tan Sri Ackbal is married to Puan Sri Norainy binti Shahar Alam and they are blessed with four children, three boys and a girl.
In his spare time, Gen Tan Sri Ackbal enjoys angling, photography, reading and working on automobiles.